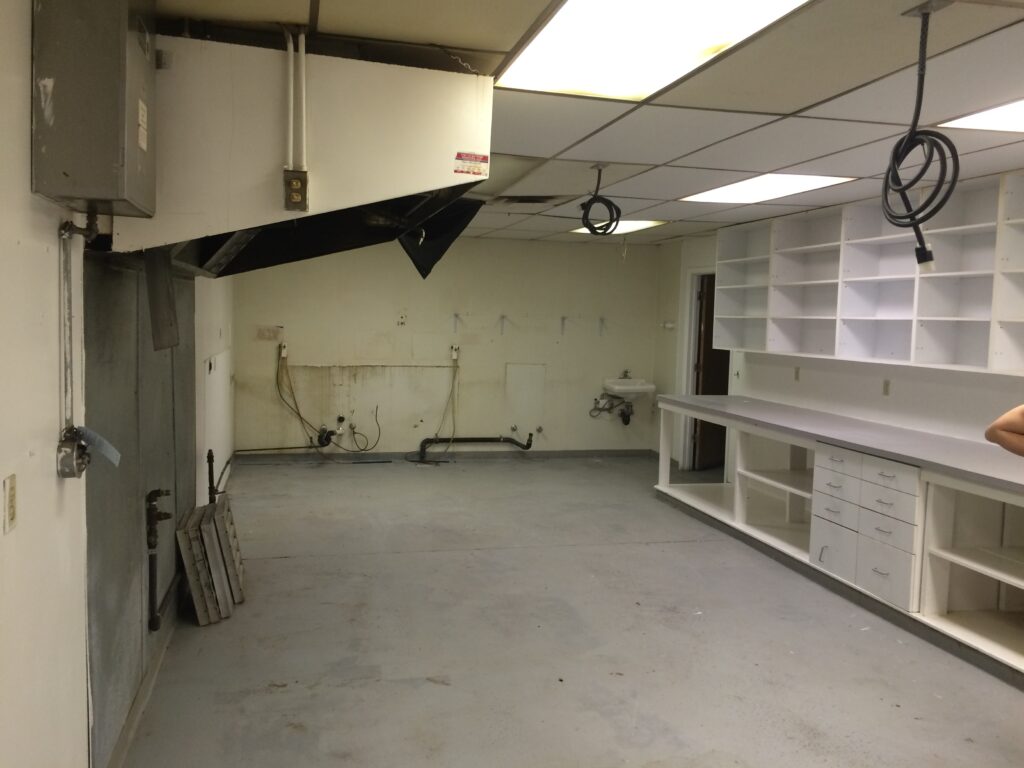 The picture above was taken on day one at the latest home of Vanguard Tech before any tear out or remodeling began. I say the latest home because this is far from the first home of Vanguard Tech.
While Vanguard Technology Corp. (the full legal name) may sound like a big multinational, for most of it's existence it has just been me, a few employees, great customers and an old shop dog.
I started Vanguard Tech way back in 1992. It was the entrepreneurial storybook progression in the early days from just a workbench in the garage of an 800 square foot house, to a downstairs bedroom in a larger house, then the downstairs living room, conversion of the two car garage to a workshop, leased space in a commercial plaza and finally purchasing our own 2200 square foot office/warehouse space.
Starting out I did custom software, electronics, and firmware design. I manufactured one so so product and wrote firmware for a number of commercial products. We were small, as businesses go, but I had proudly employed a number of people through the years with as many as seven people on the payroll at one time. By the time we had moved into our own building, most of our work was production semiconductor programming and packaging services. Things were pretty good… and then there was the cliff.
"What followed were some dark and hellish years."
2008 wasn't good for any business to be sure. In addition, in the previous years we had lost our two biggest customers to offshoring and I had personally gone though a divorce. I quickly found myself with mountains of debt, having purchased new machines and facilities to keep up with pre-2008 demand, and no income. I eventually had to lay off all my employees and sell the building to stay afloat. I moved all of my equipment back into a two car garage… and livingroom, and bedroom. It made for some strange furniture to be sure! I hung in for a while but the big customers just weren't coming back.
I went to work as an electrical engineer for a local firm in 2010 but kept the Vanguard Tech flame flickering by taking on side jobs with some of the equipment I had managed to keep. Doing a laser engraving job here and there and some custom design and 3D printing work kept the dream alive.
I had sold off a lot during the down years but I still had my hand tools, laser engraver and 3D printer. The engineering job allowed me to start crawling and clawing my way up again. I even plucked up my courage to bid on buying a machine shop! From the early years, I wanted to make the mechanical portions of my designs as well. I had less than zero capital but the owner was willing to entertain the idea of taking back a note and letting me pay it off out of revenue. It was definitely a viable shop, the owner was selling off the machine shop to start a micro distillery in the other half of the building!
The deal on the machine shop didn't pan out.
Someone with a better offer and their own financing had come along, but I did stay in touch. As fate would have it, the company that purchased the machine shop grew out of it and moved all of the equipment to a larger building. The former machine shop space, next to the newly opened distillery, was available. I let my house go and traded that mortgage payment for a lease on the shop.
Once again, I had industrial space where I could build larger projects, weld, bang around making noise at 3 am, and maybe even get some machine tools – eventually. I moved in my remaining tools and equipment along with a few personal belongings, threw a mattress and sleeping bag up above the ceiling of the office space and moved in.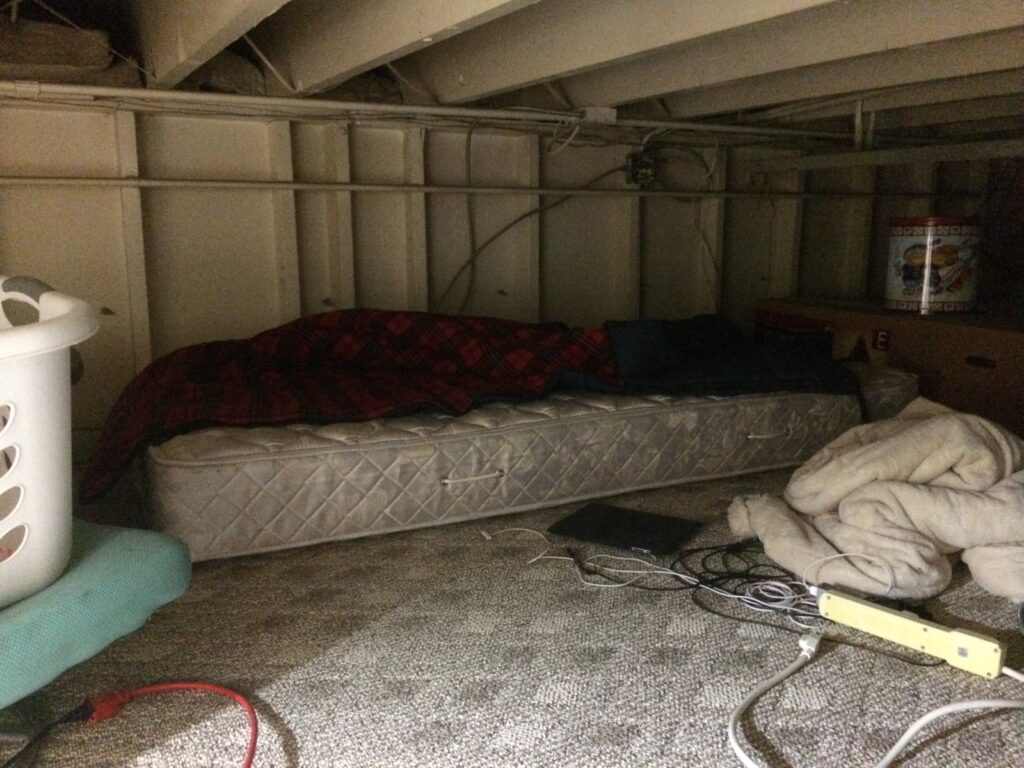 The engineering job was keeping me busy with challenging projects and lots of travel and onsite work but I managed to pick up a few more customers, a few more tools and a number of new skills, even becoming a certified integrator for a robotics company. The distillery next door was also growing and the owner wanted to expand and add a micro brewery. I relinquished the space and moved just a block away. It was a nice industrial space but not really the sort of place I could get away with living in. I rented a small apartment but immediately started searching for some kind of live-work space.
If you've hung in this far, my goodness, thanks for following along!
Things were looking up. I was now wearing multiple hats at the engineering firm as electrical engineer, project manager, and manufacturing manager and the Vanguard Tech shop was in good order with a nice trickle of sideline work. To top it off, I found an abandoned building in a manufacturing zoned area that was bank owned and they were looking to get it off of their books!
An investor friend agreed to help me buy the property if I would pay him a reduced price lease and rehab the property to build equity. I felt like Vanguard Tech was once again coming alivel!
You know how life has a way of taking you down a notch? Okay, maybe that's understated, kicking you squarely in the face.
The engineering firm was sold to new owners and after the GM and I were tasked with laying off a number of folks, the brought in a new GM and, you guessed it, we were laid off as well. There I was with a bit of severance pay and lease payments due on two shops and an apartment.
I was sure I had dodged a bullet when Vanguard Tech landed a nice long term robotics integration contract. It required travel out of town but, fortunately?, I didn't have a job now so that was an option. However, life was not exactly done testing me yet. Losing my job was just the jab to set me up for the right hook.
My father was suddenly hospitalized with a rare autoimmune disorder that had, among other things, shut down his kidneys. He would need full time care for the foreseeable future. I made arrangements with one of my sisters to alternate with her as his caregiver and, because I couldn't travel, backed out of the robotics integration contract. During the times my sister was with my Dad, I came back to Albuquerque and managed to get moved out of my apartment, and into the new property (back to a mattress on the shop floor) and find a tenant for the other shop until that lease was up.
The illness was devastating for my father. He had been very healthy his entire life to that point. After he passed away, I spent the next few years working on this and that but, to be honest, in something of a "navel-pondering" haze.
Slowly I came around and decided to get back in the saddle and start building the resources to manufacture my own products again. I was able to aquire the Fadal CNC machining center, oddly and somewhat satisfyingly, for a good price during asset liquidation of the very company that had laid me off.
After a brief foray into contract production machining, which allowed me to recoup the money spent on the machining center, and get familiar with the CNC machining tool chain, I'm back to designing and making my own little electro-mechanical products again.
You know how a roller coaster does a bunch of crazy loopy up and down things that make you think you might die and then it ends up back where it started? Yeah, It's been kinda like that.
That brings us up to the time of this post in 2020. It's been a crazy year so far with all that's going on in the world with Covid-19 but it does feel like like we're back on the tracks!
Thanks for stopping by and,
Welcome to Vanguard Tech!